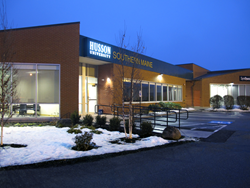 Westbrook, ME (PRWEB) August 30, 2014
Husson University announced today that it will be hosting presentations by Robert Laliberte, past board member of the Maine chapter of the Project Management Institute, on Wednesday, August 27 and Wednesday, September 3, 2014, at 5:30 p.m. at their new Southern Maine campus in Westbrook.
Laliberte will describe his techniques for developing and managing change through collaboration. He will also discuss appreciative and disruptive inquiry techniques. By helping members of the business community better understand the value of managing team initiatives, Husson hopes to increase interest in their new Project Management Leadership Program.
This presentation will feature an overview of the latest concepts that make collaborative project management such an important part of every successful modern business, said Charlie Collins, Ed.D., executive director of Husson Universitys Southern Maine campus. Individuals who have completed a project management educational program are better equipped to make important contributions to business operations, supply chain management, information technology operations, construction projects and a wide range of other professional endeavors.
Increasing the level of project management expertise in Southern Maine has the potential to enhance the success, efficiency and profitability of the local business community. In an effort to promote the value of this important body of knowledge, Husson University is now offering a new Project Management Leadership program designed to help individuals get the skills they need to supervise initiatives from conception to completion.
Over the course of the program, students take a case study through a four-phase project planning process. They learn about the unique challenges at each stage and the specific actions they can take that increase the likelihood of project completion and success. Risk management, time management, project control, conflict management and procurement are just some of the topics that will be addressed. The program concludes with a course that prepares students to take the Project Management Professional (PMP